- Single Implant
- Multiple Implants
- Full Arch Fixed Bridge
- Full Arch Overdentures
- FAQs
Dental implants functions similiar to new tooth roots with crowns, fixed bridges or overdentures placed on the dental implants in replacing missing teeth.
Dental implants are made from biologically neutral titanium material that fuse with the jawbone to form a secure foundation for teeth replacement.
There are three basic categories of implants available:
- Immediate Implants, One day Implants or Same Day Implants: whereby existing teeth is extracted and the dental implants post placed on during the same surgical visit

- Immediate Loaded Implants: whereby the temporary or permanent fixed proshetics is loaded onto the dental implants post immediately or shortly after dental implants post placement

- Conventional Implants : done in two phases - first phase, surgical palcement of the dental implants posts is done. The dental implants posts is left to heal for at least 2 months before second phase whereby the fixed prosthetics on dental implants is done
Immediate implants and immediate loaded implants may not be suited for all cases and is dependent on bone condition, dental condition and inidividual case. An initial examination, panoramix x-ray film and/or in certain cases a CT scan is done before your implantologist determines on the feasibility the type of dental implant to choose.
Types of Dental Implants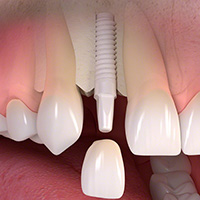 Single Dental Implants
Single dental implants with crown replaces single missing teeth Single Dental Implants Procedure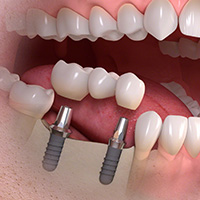 Mulitple Dental Implants
Multiple dental implants with fixed bridges replaces several missing gaps
Multiple Dental Implants Treatment Procedure
Full Arch Dental Implants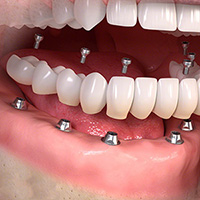 Fixed Bridge
Full arch dental implants with fixed bridges is similiar to having new tooth roots with fixed bridges on the dental implants.
Full Arch with Fixed Bridge Dental Implants Procedure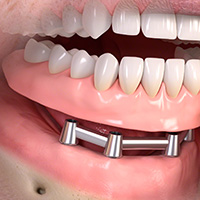 Overdenture
Implant supported overdentures gives better retention and better comfort than simply wearing complete dentures. 2 to 6 dental implants may be used with bar or balls attachments that help support a removable denture.
Full Arch with Overdenture Dental Implants Procedure
All-on-4 & All-on-6
All-on-4 and All-on-6 dental implants uses tilting posterior dental implants that facilitates an optimal support and for maximum utilization of available bone in jaw. All-on-4 and All-on-6 are immediate function implants whereby new teeth are obtained in one trip.
Zygoma Implants
Zygoma implants are done for the edentulous jaw where there is severe bone resorption, with only one surgical procedure without the need for grafting. Zygoma implants are immediate function implants whereby new teeth are obtained in one trip.
Benefits of Dental Implants
- Regain your confidence and increased quality of life
- Reduce size and construct a more natural functional bridge or denture
- No need to trim the adjacent teeth to form the conventional bridge
- The solid anchorage of the dental implants will allow you to increase your chewing pressure, so eat anything you want
- Improves speech as compared to having dentures
- Prevent further loss of teeth and bone support
- Young, natural appearance
- Expected lifelong replacement for lost tooth
- No slipping, sliding clicking dentures or worrying about your dentures popping out in embarrassing situations
Dental Implants Systems
There are several dental implants system available on the market. Smile Signature dental clinics in Thailand carries the top dental implant systems worldwide:

Pros and Cons of Dental Restorations
Dental Implant Promotions
Dental Implant Price Promotions and Specials
Dental Implant Technologies
Dental Implant Advance Technologies, Machines and Materials
Dental Implant FAQs
Frequently Asked Questions on Dental Implant Treatments