- Single Implant
- Multiple Implants
- Full Arch Fixed Bridge
- Full Arch Overdentures
- FAQs
There are several types of tooth implant secured fixed prosthetic solutions for each of the upper and lower jaw. Full arch missing gap replacement may be done with highly successful and conventional dental implant supported bridges or full bridges treatments. Other alternatives of full arch fixed prosthetic solutions includes the All-on-4 and zygoma immediate function dental treatments options.
If the full arch implant supported bridges treatment are opted, the actual number of tooth implant placed will be dependent on bone condition and case. A full bridge is then placed over the tooth implants. A checkup and diagnosis would be required before determining what is most appropriate for your case by your bangkok implantologist.
Benefits of Full Arch Implant Supported Bridge
- Gives functional excellence in mandible and maxilla
- Dental implant bridge is fixed and cost effective in the long-run
- Predictable protocol for high probability of successful results
- Good prosthetic support
- Dental implant bridge acts similar to new teeth roots with fixed bridges on implants or an all-acrylic bridge on implant
Installing Full Arch Implant Supported Bridge
The course of dental implant bridge treatment described here is one of several options available. Consult your bangkok implantologist dentist to find out what the best solution is for you, given your specific condition.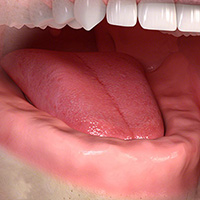 1:Before the procedure
The bangkok implantologist determines what needs to be done and prepares both himself and the patient for the coming tooth implant treatment procedure.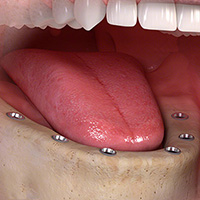 2. Installing the tooth implant
The first step in installing tooth implant by your bangkok implantologist is to replace the lost tooth roots. In this of illustration case, five tooth implant are used. Temporary removable full dentures may be worn that enable you to eat and function like normal while waiting for the permanent dental implant bridge or full bridge to be installed.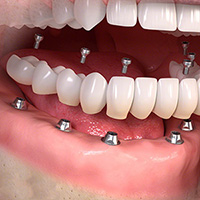 3. Attaching dental implant bridge
The final full bridge is securely installed on top of the tooth implant by your bangkok implantologist.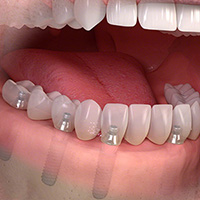 4. End result
Your new teeth should be hard to tell from natural with a full bridge-both for you and others. People who have had traditional dentures before getting a dental implant bridge often describe this as an overwhelming and very positive experience.
Thailand Dental Implants Promotions at Smile Signature Dental Implant Clinic