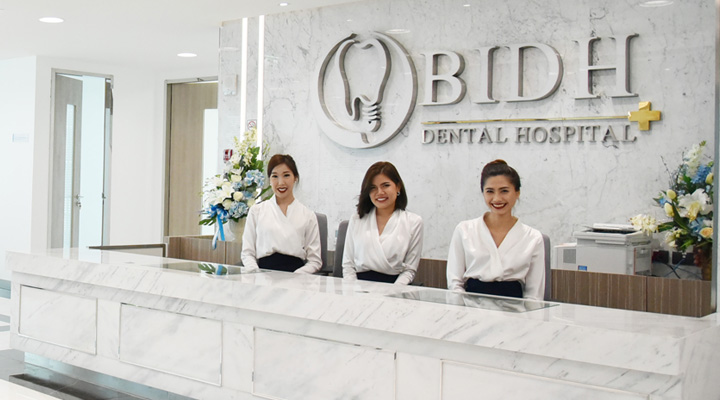 BIDH Dental Hospital was established with the emphasis as a dental center of excellence using evident base sterilization standards, advanced digital dental technologies and continous advancement at its core on specialities. Our dental hospital building holds a 200 person conference facilities on its top floor as a dentist and dental training center.
Dental Hospital Tour & Facilities
BIDH dental hospital is Thailand's first full-fledged specialized dental hospital providing a one-stop dental care services.
First Floor : Welcome Lobby, Nurse station & Coffee Corner
Second Floor : Operating Theatre, In-patient Rooms, Central Supply Sterile Department (CSSD)
Third Floor : Digital Smile Studio, 12 Dental Treatment Rooms, Reception area
Fourth Floor : Consultation Room, 10 Treatment Rooms, Digital X-ray Center
Fifth Floor : VIP Lounge, 11 Treatment Rooms
Sixth Floor : Digital Dental Laboratory & Offices
Seventh Floor : Conference & Training Center, Meeting Rooms
Basement Floor: Underground Parking
Bangkok International Dental Hospital (BIDH) at Ploenchit, Sukhuvmit Soi 2 by Thailand's award-winning dental clinic network opens May 2019.